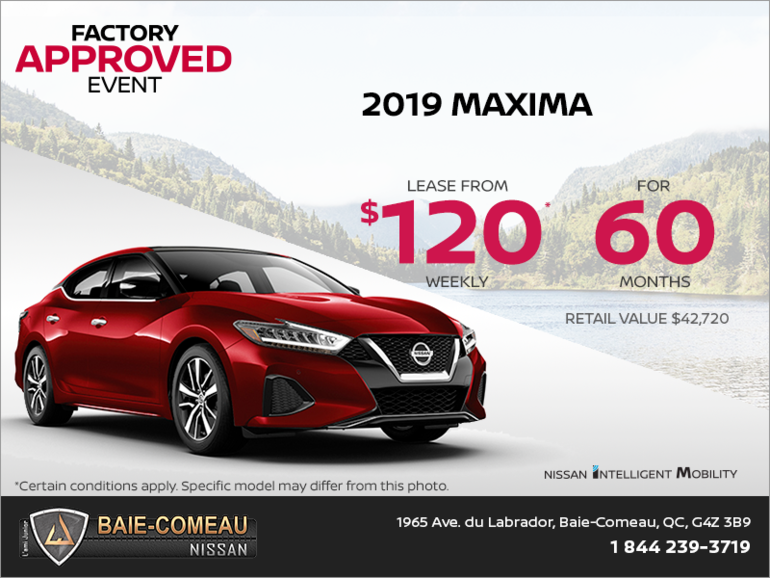 Lease the 2019 Nissan Maxima starting from $120 weekly for 60 months with $0 down on select models!
Or, get it for the cash purchase price of $42,720.
Certain conditions apply. This offer is available until July 2nd, 2019.
Book your test drive online today!
Offre en vigueur du 1er juin 2019 au 2 juillet 2019.
*L'offre à la location s'applique au modèle Maxima SL 2019, pour un terme de 60 mois, ce qui équivaut à 60 mensualités de 520$ avec 0 $ en comptant initial lorsque loué par l'entremise de NCF. L'obligation totale est 31,201 $. Le rabais à la location de 0 $ et un bonus de 0$ est inclus dans l'offre. Premier paiement, comptant initial et 0 $ dépôt de sécurité requis à la signature du contrat. Les frais d'enregistrement auprès du RDPRM et les frais d'agent pour l'inscription (jusqu'à 77 $ au total) ne sont pas inclus et sont payables à la signature du contrat. Location basée sur une allocation annuelle de 20 000 km (allocation totale de 100 000 km pour un terme de 60 mois) avec kilométrage additionnel de 0,10 $ le km. Certaines conditions s'appliquent.
Les frais de transport et de prélivraison 1 815 $, les frais de 100 $ sur le climatiseur, si applicable, les rabais du manufacturier et les contributions des concessionnaires (si applicables) sont inclus. Taxes, immatriculation, droits spécifiques sur les pneus neufs (15 $) et assurances en sus. Des conditions s'appliquent.
Les modèles illustrés sont à titre indicatif seulement. Les concessionnaires peuvent vendre à prix moindre. Ces offres n'ont pas de valeur d'échange au comptant.© Nissan Canada inc. et Nissan Canada Finance, une division de Nissan Canada inc.